Blog
Riding home from Harrogate – part 1
15 Oct 2019 // Published in
Bikepacking
Inspired and impressed by seeing EF's amazing video of Lachlan Morton tackling the British back-roads we decided to head out for our own trip. We created a gravel focused bikepacking route – partially inspired on the Dales Divide and the GBDURO – through the Yorkshire Dales, the Lake District and the North Pennines.
Since we were invited to watch the Road Worlds in Harrogate it seemed to be the right place to get started with our journey through Northern England. We headed off the day after the Worlds, to start a memorable trip.
As soon as we leave Harrogate we immediately get impressed by the stunning surroundings Engeland has to offer. It doesn't take too long before we turn into a narrow path and hit the first gravel. After just a few minutes it feels like we are miles away from any civilization.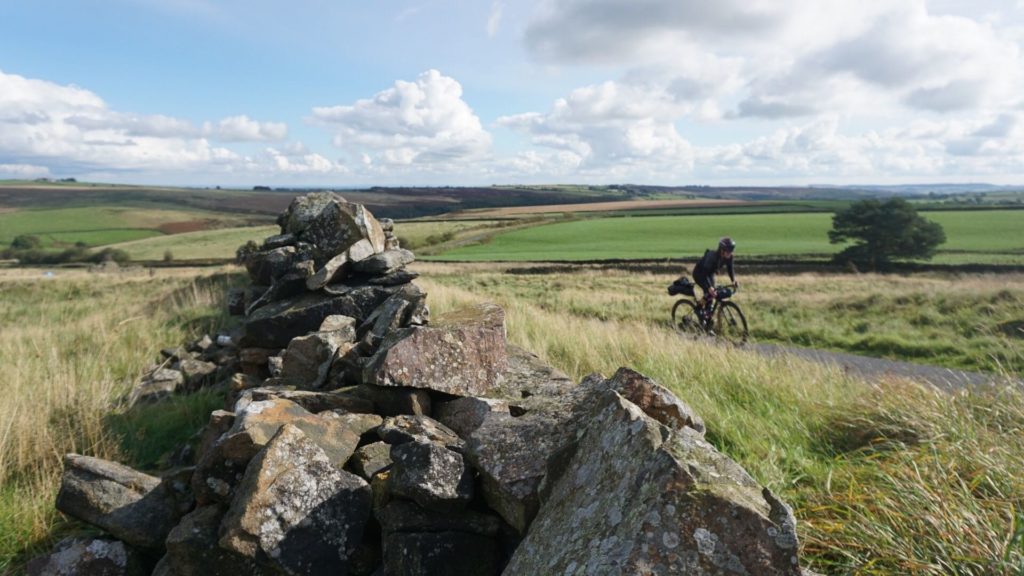 Gravel and bridleways in the Dales
Continuing our tour we set course towards the first National Park, the Yorkshire Dales. The park, well known for the Three Peaks, hosts some of the best gravel roads we ever experienced. The open fields combined with the flowing hills create some stunning views.
Even though the views are sometimes blocked by the iconic brick walls surrounding most roads in this region, it is definitively worth stopping from time to time and soak up those views.
Finding beautiful gravel roads isn't hard in the Dales. Therefore you can spent a lot of time riding gravel roads in no man's land, which is awesome! On the other hand there is just too much ground to cover, so be prepared to miss out on some spectacular places.
The Bike – #1
Model: Diverge WMN
Tires: 38mm PathFinders – Tubeless setup
Suited for this ride: 80%
More sheep then humans
After a few hours in the saddle we realize how big the Dales actually are. Apart from it's size it is even more incredible how little people we've seen, apart from a lost hiker or bird watcher there isn't anybody around. The only sound you hear is the bleating of sheep in the distance. You could wander around here for days, not seeing any human being.
The double tracks keep on winding through the rolling hills. Wind is blowing in our faces, the wet puddles makes our feet colder and colder. We keep on pushing on the steep inclines. We might have underestimated these small steep hills, they are really killing the speed.
Soon the gravel is getting easier on us and we see a little town appear in the distance. We decide to stop for some proper English fish and chips and discuss our stay for the night.
Bikepacking and pods in England
When we were planning on this trip we decided to stay in pods, since the weather can be a little harsh for camping out here. These pods are basically wooden shelters with electricity, but there are fully equipped glamping options available. Of course depending on the location you are.
Since we didn't yet exactly know what distances we would cover each day, we decided it would be best to see what is available at the end of every day. For our first night we ended up with Peaks and Pods on a small dairy farm near Skipton.
We arrive, all wet from last hours rain, in the gloom of the day. The women's farmer makes sure we are all set up for the night. She even apologizes to us for not having a cake ready, since we didn't make a reservation. It illustrates how caring farmers are, which is why it is so nice to stay in a pod at a farm.
One drawback to most pods is that they only accept two night bookings. Sometimes the owner agrees on a one night stay if you explain you're traveling. For today that wasn't too bad for us, we still were tired from traveling to England. Above all, the weather forecast for Tuesday was terrible. So we decided to take a rest day and stay for two nights.
We used the spare time to enjoy the chickens, maintain our bikes – they have a bike shed – and get some food. Since the closest store was 5 miles away it was a nice rest day ride. We made sure we were all set up to tackle the next few days.
Oh, and just when we grabbed our bikes out of the shed to go shopping. We discovered a small welcome package with a delicious cake inside. What an incredible start of our trip!
We.
Are.
#Gravelicious.